Coronavirus Update
We have been looking into our crystal ball to try and work out when we might re-open, It looked like a misty day on top of Scafell! Whatever the weather it will not be before the 4th of July 2020
If you have room bookings with us during lockdown we will hold all deposits for your return in future. We want to see you soon! We will let guests with bookings know the situation as soon as we do ourselves. It would be lovely to think that we might be back open before the summer season has passed.
If you would like to book rooms for after 4th July, please do so, we will not take a deposit at this time and will be flexible with date changes if required.
When we are once again open there will likely be some distancing restrictions in place, so please book tables to dine with us.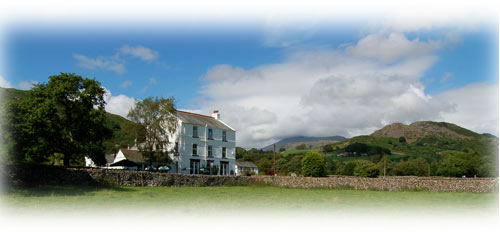 Brook House Inn, owned and run by the Thornley Family since the last century, offers you the opportunity to stay in hotel style bedrooms with ensuite baths in all rooms whilst having the convenience of a real Lake District pub with real ales and a fantastic malt whisky collection. Friendly staff with local knowledge help make your stay just right. Oh and did I mention the 180 whiskies to try? It will take a few visits to Eskdale to sample them all!
Our imaginative menu, including vegetarian options and scrumptious puddings, is complemented by blackboard specials and a varied wine list. Delicious home-made food is available all day. Dining in our restaurant, bar or snug is always a pleasure.
We serve real ales, treated on their journey from barrel to bar with tender loving care. These include Cumbria Legendary Ales Langdale, Hawkshead Windermere Pale and a range of guest beers from Local Brewers such as Fell, Barngates and Foxfield. We also have beers from many others brewers around the Country such as semi local Crossbay at Morecambe and Small World over in Yorkshire. Brook House Inn is one of the 3 hosts of the Boot Beer Festival, Boot Beer Festival is held in June every year and is one of the biggest beer festivals in the Lake District
Please see the picture gallery below for images in and around Brook House Inn
Our Favourite Breweries and Beers
Other beers may also be available!